One of the 20 yard targets collapsed this afternoon during a gust of wind. It had been bowing out terribly recently. When the park staff put up six targets on July 11th, they did a rush job of it and over-tightened the 1st target at the south end of the range, which sped up the bowing out process.
Local archers restacked the butt and wedged in pieces of tentest at the top in the hopes that it will stay up longer, but we advise the following when shooting at that target:
A Brief History of Crossbows in Murders
July 13th 2017
One week ago on July 6th a local archer and Toronto Archery Range regular Justus Holmes was featured on torontostoryarchive.com, which features podcasts with people in the great city of Toronto. You can listen to the podcast by visiting torontostoryarchive.com/home/ep-17-archery-in-the-city or by clicking on the embedded file below.
July 11th 2017
Five 20-yard targets and one 30-yard target at the Toronto Archery Range have been repaired, as of the morning of July 11th.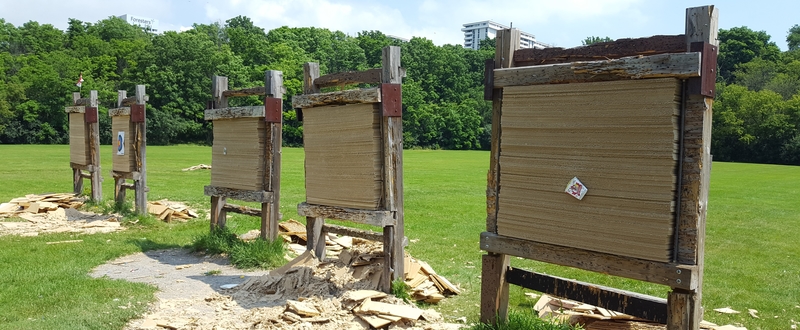 July 5th 2017
Below is a photo of the five 20-yard targets at the Toronto Archery Range. They are in pretty poor shape. We expect they will all collapse before the end of July. If you would like to see them repaired sooner, try emailing parks@toronto.ca and asking politely for the Park Staff to repair the targets.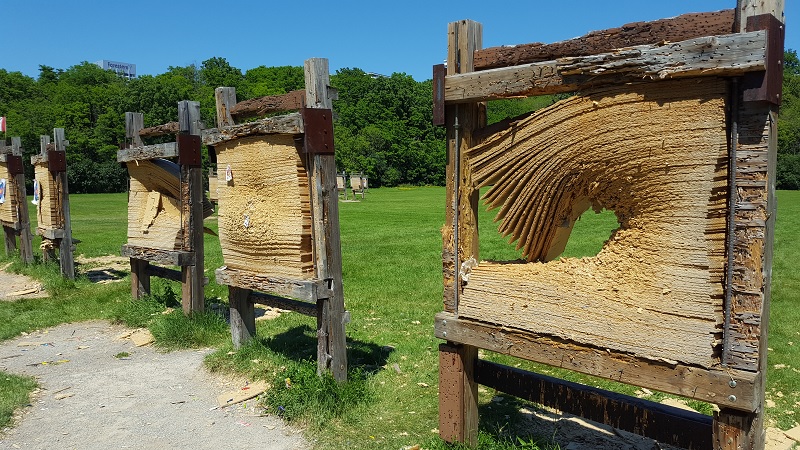 June 26th 2017
Le Baron Outdoor Products has permanently closed (and we have removed their listing from ArcheryToronto.ca's listings of places to buy archery equipment). Le Baron entered bankruptcy protection and began a series of liquidation sales to get rid of their remaining stock of merchandise in late 2016. They recently closed their doors permanently.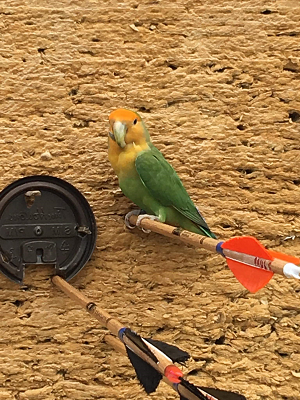 June 20th 2017
A Peach Faced Lovebird Parakeet (also known as a Rosy Faced Lovebird) was spotted recently hanging out at the Toronto Archery Range. This "escapee" won't survive long in Toronto, but if spotted again you can report the sighting to http://www.lostandfoundbirds.ca/lfb/foundbirdreport.html to help this bird to be reunited with its owner.
We hope it enjoys its stay at the Toronto Archery Range.
June 6th 2017
ArcheryToronto.ca added a PayPal Donation button today. Funds raised through donations help with maintaining, updating and growing ArcheryToronto.ca, a valuable resource for Archers in Toronto. Maintaining the server and updating the website is both time consuming and costs money, but with your donations at least the latter will be taken care of.
You do not need a PayPal account to donate. You can also donate using your credit card or debit card. Any excess funds will be donated to the Toronto Archery Club and used to promote the sport of Archery in Toronto.
June 1st 2017
If you cancelled multiple trips to the archery range in April and May due to rain, you are not alone. It has been the rainiest Spring in Toronto since the previous record set in 1953. Toronto had 110.9 mm of rain in April and a whopping 142.6 mm of rain in May. The sheer amount of rain pushed Lake Ontario to record-breaking levels and flooded the Toronto Islands / various beaches around Toronto.
And June is expected to be remarkably cold and wet, reminiscent of the cold/wet summer we had in 2015. So we recommend archers visiting the range to bring severals things: Umbrella, rubber boots, and/or a rain parka.
May 26th 2017
The 20 yard target butts are starting to get very soft. Anyone shooting compound bows or high poundage bows at 20 yards may want to consider aiming in the corners or bringing a portable target with you to the range.
May 20th 2017
The washrooms near the Overlea Parking Lot are now open for the season. The water fountain near the washrooms is likewise operational.
Also we have heard several complaints of people being bitten by fleas at the Toronto Archery Range. To anyone who is in the habit of bringing their dog to the archery range, you might want to consider not bringing your dog to the range (unless you really want your dog to get fleas).
May 11th 2017
Camp Tamakwa, a children's summer camp located in Huntsville, Ontario (see ArcheryToronto.ca's list of archery summer camps near Toronto) is seeking an Archery Director/Instructor to plan, implement, instruct and supervise the camp's archery program. Huntsville is located SW of Algonquin Provincial Park. Instructor should love working with children and be safety minded. Experience teaching archery is required, experience working with children / teaching archery to children is preferred.
For more info call 416-924-7433 or email andrea@tamakwa.com, or visit www.tamakwa.com.
Employment Period will be from June 19th to August 19th. Instructor must be over 18. Room and board is provided by camp. Job offer expires June 10th.
May 1st 2017
Later in May (whenever it stops raining long enough that the ground can dry) Park Staff will be installing 5 new park benches at the Toronto Archery Range. They need to wait until the ground is dry so they can install the benches and pour concrete bases for them. (They will also be repairing the signpost mentioned below on April 26th.)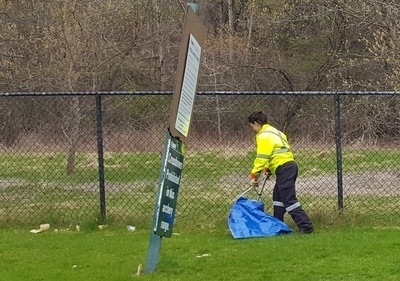 April 26th 2017
Toronto Parks staff cleaned up part of the Toronto Archery Range today, and much of E. T. Seton Park, as part of an effective "Spring Cleaning" of the area. People using the archery range and are encouraged to dispose of their trash in the trash and recycling bins. Please avoid littering, it really helps to keep the archery range looking good.
The Safety Rules / Toronto By-laws signpost (shown in the photo on the right) also needs to repaired sometime soon, as it is leaning hard to the south.
April 24th 2017
Some good news, some bad news. As announced back on February 10th, Tent City Outfitters is going out of business. Tent City is a favourite amongst many local archers in Toronto, and we are disappointed to hear of this.
The Bad News - Two months and two weeks later, Tent City has almost no archery supplies left. So it will be slim pickings if you show up expecting to be stocking up on archery supplies - although they certainly have lots of unsold camping inventory.
The Good News - Tent City is in the process of rethinking and retooling their business model in an effort to make themselves more viable. This means they might be dropping various departments and focusing on departments that are more profitable - which could mean the archery department either gets dropped or expanded.
So they are not gone completely, but people will just have to wait and see what happens. We hope that Tent City pulls through this and comes out stronger than before, with the archery department renewed and revigorated.
April 14th 2017
The Thorncliffe entrance to the Overlea Parking Lot (the one shaped like a doughnut) is now open for the season.
The bathroom/water fountain near the Overlea Parking Lot should be operational by mid or late May. Until then people visiting the Toronto Archery Range will have to do their business in the bushes. We also recommend bringing drinks / snacks.
April 9th 2017
New flags are now up at the Toronto Archery Range. They were donated by a local archer. Having flags at various distances is handy for trying to more accurately predict how much to adjust your aim for wind conditions - and this has been an extremely windy Spring thus far.
Hot Tip: Don't adjust your shot based on the wind that is behind the target - that is useless because the wind conditions behind the target might be different from the wind in front of it. Instead look at the flags which are closest to the half way point for the distance you are shooting at, therefore you are hopefully judging the average wind conditions for the distance between you and the target - which should make for a more accurate shot.

March 24th 2017
We have begun to build a new section to the ArcheryToronto.ca website: Tourism. So far we just have a listing for Montreal, but we hope to be adding locations progressively throughout the year. (For example we will likely be adding a page about the Niagara Archery Range once they are up and running.)
The Toronto Archery Range is very welcoming for tourists, however visitors to Toronto don't always remember to bring their equipment with them. One of the local archer's is working on a solution however: Archery Equipment Rentals. For now we recommend tourists coming to Toronto who want to do archery to consider archery lessons instead, but by August 2017 we expect to have equipment rentals available as a viable option.
If you are planning to visit Toronto in August 2017 or thereafter, and you are interested in renting equipment, email us and we shall pass your contact info on.
March 17th 2017
All fourteen (yes, 14) target butts were replaced today. Compound bow shooters beware, your arrows may get stuck easily.
March 14th 2017
The Niagara Archery Club has reached a deal with the City of Niagara to lease 25 hectares of land the group wants to use for archery ranges and a public park. The deal involves rezoning the land and the Niagara Archery Club is footing the bill to do the following:
Adding a paved parking lot.
Installing a stationary archery range.
Creating a walkable 3D archery range using the existing trails on the land.
Removing trees in parts of the park and planting new trees in other areas.
The only costs to the city are the rezoning. Everything else is being paid for by the Niagara Archery Club. Wetlands on the land will also be protected for future generations to enjoy. An environmental impact study was completed, which stated the use as an archery range would not "adversely impact the natural heritage features and habitat on the lands."
1 hectare is an area equal to 100 meters by 100 meters. So 25 hectares is an area the size of 500 meters x 500 meters. In comparison the field for the Toronto Archery Range is only about 1.3 hectares in size, measuring approx. 100 meters wide by 130 meters long (not including the trees at the far end of the range or on the north side of the range).
For Toronto and GTA archers this means a potential new place to visit and possibly do some 3D archery. We look forward to seeing the results and wish the Niagara Archery Club all the best in their endeavours to grow the sport.
March 11th 2017
Updated the Frequently Asked Questions page today.
If you spot any questions you think we are missing on the FAQ page, please email us and ask your question.
March 8th 2017

The State of the Toronto Archery Range
The Myth of Zen in the Art of Archery [PDF]

February 10th 2017

Sad news, Tent City Outfitters - one of the best places in Toronto to buy archery equipment - is closing. The company had a roof fire, followed by expensive repairs, and has since ran into financial troubles.

All of their remaining stock of archery equipment, camping equipment, hiking gear, etc is being sold off at 20% to 50% off their already low prices. So if you are looking for new equipment for 2017, now is a good opportunity to stock up.

TENT CITY
Address: 1600 Steeles W, Concord, ON L4K 4M2
Phone: (905) 660-6885
Hours:
Sunday Closed
Monday 10:00 am – 6:00 pm
Tuesday 10:00 am – 6:00 pm
Wednesday 10:00 am – 6:00 pm
Thursday 10:00 am – 9:00 pm
Friday 10:00 am – 9:00 pm
Saturday 10:00 am – 5:00 pm

We wish the staff at Tent City all the best. They will be sorely missed.

January 19th 2017

We have been receiving requests for information about Mounted Archery Lessons / Horseback Archery Lessons, including one request for Yabusame (Japanese style mounted archery). There are scant few places that offer mounted archery, that much is certain. We do have some recommendations however.

#1. We strongly advise that people looking to get into mounted archery to first learn how to ride a horse. Don't try to learn how to ride AND try to learn horseback archery at the same time. That is just plain dangerous. Learn to ride first. You will then also have to learn how to control the horse with just your legs - because your hands will be busy, and that means you will need to learn more advanced riding skills. Expect to spending between $25 to $100 per hour on riding lessons.

#2. Understand the financial costs of owning a horse. Yes, you can get riding lessons without owning a horse, but if your goal is to eventually own a horse and do mounted archery, you should really understand how expensive owning a horse is. Along with stabling, feed, veternarian costs, etc.

#3. Where will you end up practicing mounted archery? You should come up with a plan for that. Not every horse stables/ranch is going to be okay with you doing archery there and treating the place like your own private archery range. You will need to find a place that allows such things.

If people have any information about places in Canada that offer mounted archery then we invite you to email us the details and we will share it here with others - possibly even creating a database of locations that teach both horse riding lessons and mounted archery.