Hello and welcome to ARCHERY TORONTO, your one-stop guide to Archery in Toronto and the GTA.
Here you will find all the information to begin doing archery in Toronto, where to do archery, where to buy archery equipment, where to get archery lessons, the laws, rules and etiquette governing archery, a list of archery clubs in Toronto, recommendations for archery blogs in Toronto, and even local Toronto archery news. If you have any questions please read the corresponding section or check our Frequently Asked Questions page.
Author Ernest Thompson Seton (August 14, 1860 – October 23, 1946) left the land for the Toronto Archery Range in his will to the City of Toronto, resulting in the opening of the archery range in 1968.
This Sunday, August 14th marks 156 years since his birth. We recommend raising a bow and shooting an arrow in honour of the old boy!
Every year Bass Pro offers a "deal" to people looking to get of their old compound bow or crossbow and trade it in for a discount on buying a new compound bow or crossbow. The discount deal is as follows:
$100 off if you make a purchase worth $800 or more.

The deal, like every previous year, is a complete ripoff. People looking to sell their old compound bow or crossbow would be better off just selling it on Craigslist, Kijiji, OODMAG, Facebook, etc, for anywhere between 50% to 80% of the amount they originally paid for it. If the bow is still in very good condition, one should expect to get 80% of its original value.

If you have a $500 compound bow and you want to get a new one of equal value, which is better? $50 trade in at Bass Pro? Or sell it for between $250 to $400 on Craigslist? Clearly the latter is more worthwhile. What does Bass Pro do with all the old bows after they have been traded in? Sell them online themselves, and make a tidy profit off of the fools who traded in their old bows.

The only time the above deal would make sense is if you had an old compound bow/crossbow that was a wreck / broken / barely usable and it had become impossible to sell it.

In other news...

Bass Pro currently has a variety of archery items on sale, ranging from compound bows, crossbows, arrows, portable targets, 3D targets, compound bow sights, mechanical releases, mechanical/fixed blade arrowheads, bow cases, crossbow cases, bowhunting treestands, and harnesses. The brand names on sale include:
API Outdoors®
BarnettTM
Bear® Archery
Bear-X
Big Game Treestands
BlackOut®
BLOCK®
Big ShooterTM
Carbon Express®
Excalibur
DiamondTM
Gold Tip®
Gorilla®
IQ®
Millennium
Muddy®
Muzzy®
NAP®
Parker®
PLANO®
PSE Archery®
RageTM
RedHeadTM
Scott ArcheryTM
Stryker®
SummitTM
TenPoint®
Trophy Ridge®
TRUGLO®
TRU-FIRE®
Note - ArcheryToronto.ca is in no way affiliated or sponsored by Bass Pro. We don't approve of their "trade in deal", but we do like their sales.
August 12th 2016

Yesterday morning 6 target butts at the Toronto Archery Range were repaired, four 20s and two 30s. According to a witness they would have repaired a 7th target butt the same morning, but discovered a wasp or hornet nest burrowed inside the 7th target butt when they knocked it down and decided that they could wait until another day to repair that one. Update, the 7th target butt was repaired on a later date.
What is confusing however is the different message from Jim McKay from Toronto Parks, who assured local archers on August 10th that there would be no repairs done until August 20th at the earliest, because the city had run out of natural tentest, and furthermore had previously stated that the city's budget for repairs had run out. His statements are confusing as the parks staff repaired 24 target butts in 2015, but had only repaired 13 target butts during 2016 as of July 6th. When asked about that McKay states that "The repairs to the butts this year has increased significantly, I believe that we are on round 4 of repairs so far and already we have used up our yearly supply of pressed boards and are in the process of having to buy more material."
According to our records he is partially correct. There has been 4 sets of repairs, but only 13 butts repaired in total. The new 7 butts repaired brings the new total repairs to 20, during 5 sets of repairs. That is still below the record 24 repairs we witnessed in 2015.
Last year we had no problems with repairs. They were done swiftly and promptly, often within the first week or only a few days of any target butts needing repairs. This year there has been several long delays with making repairs and Toronto's archery community has certainly noticed the lack of regular repairs. Add to these statements from Jim McKay claiming that repairs have "increased significantly" and you begin to question what Toronto Parks is up to. Has there been a budget cut to the archery range? Are they cutting back on repairs? Why does McKay think repairs have increased when the numbers are in fact down?
In the past when reporting that butts needed repairs the person answering emails on behalf of Toronto Parks is usually Douglas Jones, and he has been excellent in responding to the concerns and needs of Toronto archers. We are happy to see that the city finally came through and found more natural tentest to repair the target butts. What is confusing however is when Jim McKay says on August 10th that they have run out of tentest and states that it won't be until August 20th for more to arrive; Then on the morning of August 11th six of the target butts suddenly get repaired, and you have to wonder what is happening. How did they find the tentest so quickly? Was it sitting in a warehouse waiting to be used? Or was it rush delivered the night before? It contradicts what Jim McKay said one day earlier.
August 9th 2016
NOTICE - DO NOT EXPECT THE TARGET BUTTS AT THE TORONTO ARCHERY RANGE TO BE REPAIRED ANY TIME SOON. OUR BEST ESTIMATE IS THAT THEY WON'T BE REPAIRED UNTIL LATE AUGUST OR EARLY SEPTEMBER.
Now you might wonder why the target butts haven't been repaired much this year. Last year the 14 target butts were regularly repaired and the city did an excellent job of it in 2015. A sum total of 24 target butts were repaired in 2015, meaning a number of them were replaced multiple times.
So far in 2016 13 target butts out of the 14 have been replaced (once per butt). One of the 70 yard targets has not been replaced since 2015. Unfortunately at present two of the 20 yard butts have collapsed, and the other three 20 yard butts are close to collapsing. We expect them to collapse within the week. One of the 30 yard butts has also collapsed, and the remaining 30 yard butt is close to collapsing too. (August 10th Update, both 30 yard target butts are now down.)
The 50, 60 and 70 yard targets are in comparatively good condition having been replaced in June / July (with the exception of the abovementioned butt which hasn't been repaired since 2015), but 90% of archers don't use those distances. So what are the 90% of archers supposed to do?
Honestly, we recommend a number of options:
#4. Complain. Email / phone the following people and ask for repairs: Douglas Jones (djonesb@toronto.ca), Jim McKay (jmckay2@toronto.ca), Toronto Parks (parks@toronto.ca / 311). You might also try contacting the city councillor for Ward 26 (Jon Burnside), the General Manager of Toronto Parks (Janie Romoff), or even Toronto Mayor John Tory.

We understand that many of Toronto's archers will not like these options, in which case we strongly recommend you contact all of the people listed in #4 above in an attempt to get results. Again, don't expect any results between now and late August/early September.

August 3rd 2016

On August 5th, Team Canada will begin competing in the archery competitions for the Rio Olympic Games. The men's ranking rounds (for both individuals and teams) will take place at 8:00 AM. The women's ranking rounds (individual and teams) will occur at 12:00 PM. The various elimination rounds, quarterfinals, semi-finals, bronze and gold medal matches will take place on August 6th to 12th.
For a complete schedule of the Rio Olympics archery schedule visit https://www.rio2016.com/en/archery.
See our previous post from May 10th to learn more about Canada's Olympic Archery Team.
The Rio Olympics has been marred by corruption scandals, incomplete architecture, pollution, crime, and a Zika virus outbreak that has caused many athletes to stay home. Some of those athletes who showed up anyway are sleeping under mosquito nets, and even a few are getting endorsement deals from bug-spray manufacturers.
July 20th 2016
Some of the target butts at the 20 yard range are in grave need of repairs. Two of them are puffing outwards and will likely collapsed any day now. The other 3 targets at the same distance are also soft in the middle and will also soon be due for repairs.
Update, the two targets that were puffing outwards have now collapsed. If people want to see them repaired quickly please email Douglas Jones at djonesb@toronto.ca and/or parks@toronto.ca. The more requests they get for repairs, the faster they will be repaired.
The Toronto Archery Range Wish List
There are many things archers in Toronto would like to see happen to improve the Toronto Archery Range. Here is our list of the top ten items:
Repairs - The target butts need more regular repairs to keep them in good condition.
Shade - Whether it be shade trees planted near the picnic tables, metal patio umbrellas, or a permanent structure.
Washrooms - There is a washroom roughly 6 minutes walk to the south of the range, but a closer one would be ideal.
More Target Butts - The range could use another target butt at 30 yards and two more at the 20 yard range.
South End Garbage Cans - There used to be garbage cans at the south end of the archery range but they were removed under Rob Ford. Since then there has been a litter problem at the south end of the range.
More Picnic Tables - The current benches and tables are old and some are in bad shape, so several new tables would be nice.
Cement Shooting Line - While the current line is marked by the posts, some people still ignore that rule. A cement line would more clearly mark where it is. When the range was first opened the shooting line was marked by old TTC bricks, but most of those have sunk into the mud over the decades.
Water Fountain - Not a necessity as many archers bring their own liquids, but it would be nice.
Parking Lot - A new parking lot, specifically for the archery range, could be placed west of the range (south west of the Ontario Science Centre).
Children's Archery Range - A set of shorter (closer to the ground) target butts, built on the small strip of land directly south of the range. Target butts could be place at 10 and 15 yards. Rationale: 20 yards is normally a competitive distance for teenagers. It is too far for small children. Having it slightly separate to the adult archery range could also improve range safety.
Got more ideas for how to improve the Toronto Archery Range? Email Us!
July 11th 2016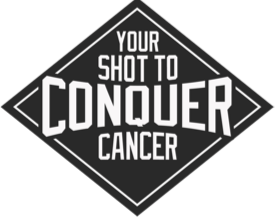 The Princess Margaret Cancer Foundation is looking for people to perform trick shots on video to raise awareness/money for the foundation. If you wish to participate, simply make a trick shot (it does not have to be an archery trick shot, it could be golf, basketball, tennis, football, bowling, etc), upload it and share it on social media and include the hashtag #TakeYourShot.
To donate to the Princess Margaret Cancer Foundation you can visit either: http://takeyourshot.org or http://www.thepmcf.ca/Ways-to-Give/Donate-Now.
July 6th 2016
Two of the 70 yard target butts at the Toronto Archery Range fell down / collapsed earlier this week, but have already been replaced. Huzzah.
June 29th 2016
The target butt at 60 yards has been repaired, along with one of 70 yard targets which was in poor shape.
Also just a reminder that if anyone has an old patio umbrella they don't use any more, feel free to bring it to the range and donate it. Several of the picnic tables have holes drilled in them that are perfect for patio umbrellas. It is hot out there folks!
Lastly, if you are going to the archery range and planning to be there a long time remember to bring lots of water with you. We don't want anyone passing out from dehydration or heat stroke.
Canadian archers will be competing in the Olympic Games in Rio this summer, including Toronto's own Crispin Duenas - who back in September 2015 broke the Canadian record with a score of 685 out of 720. (For those doing the math, that is an average score of 9.513,888~.)
Other athletes representing Canada at Rio include: Virginie Chénier from Montreal, Patrick Rivest-Bunster from Montreal, and Georcy Thiffeault Picard from Montreal. Clearly Montreal is giving Toronto a run for its money by producing lots of Olympic athletes.
Note - Canada has never won an Olympic medal in archery. Canada's best finish was fifth in the women's individual competition at the 1976 games. That particular feat was accomplished by Montreal archer Lucille Lemay, who scored 2,401 out of 2,880. (Her average score was 8.336,805~.)
The current world record for men's is 699 out of 720, by South Korea's Im Dong-Hyun. (His average score was 9.708,333~.)
The current world record for women's is 673 out of 720, a tie between South Korea's Park Sung-Hyun and Ukraine's Lina Herasymenko. (Their average scores were 9.347,222~.)
May 9th 2016
Canada's Wonderland has provided the Toronto Archery Club (and to a larger extent, Toronto's archery community) with a Promo Code for buying tickets at a discounted rate. The Promo Code is used when purchasing tickets online at: www.canadaswonderland.com/tickets
The Promo Code is: Archery2016
Ticket Pricing Starts at 35.99 plus tax. For groups of 15 or more, please contact Amy Dew at 1.905.832.7506 or amy.dew@canadaswonderland.com.
April 29th 2016
Three of the archery target butts at the 20 yard range have been replaced. Update: All of the target butts at the 20 yard, 30 yard and 50 yard ranges have now been repaired, having been replaced during April. Prior to this the targets were the ones from 2015 and had weathered through the winter.
April 15th 2016
Camp Kirk in Kirkfield (East of Lake Simcoe) is looking for an Archery Instructor to teach archery to children ages 6 to 13. Camp Kirk is a small overnight camp for children who have Learning Disabilities, AD/HD, Autism Spectrum Disorders, and/or other types of exceptionalities.
Applicants should be: 19 years of age by June 19th; Previous experience with Archery is mandatory; Strong facilitation and communication skills; Previous experience working with children with exceptionalities is an asset.
To apply, email a Resume + Cover Letter to: Erica Coutts, Director at her email address erica@campkirk.com. If you have questions about the position you can also phone: 416-782-3310.
Posting Expires June 30th.
April 13th 2016
The Overlea Parking Lot entrance is now open for the season. To make use of the Overlea Parking Lot, go to the corner of Overlea Boulevard and Thorncliffe Park Drive (East) and then drive south until you the sign for E. T. Seton Park on your left and the corresponding laneway into the park. Drive in to the laneway, down the hill (now you understand why there is no winter maintenance), turn left when you read the T shaped intersection at the bottom of the hill. Drive over the bridge, go past the 2nd parking lot and continue northward until you reach a large doughnut shaped parking lot. You will be able to see the Overlea overpass bridge above you to the north. Park, get your archery equipment out of vehicle, and walk north along the bicycle trail about 4 - 6 minutes. The Toronto Archery Range will be on your right.
The Eglinton Parking Lot is also open year-round, accessible via Serena Gundy Park. Upon entering Serena Gundy Park, turn left at the Y shaped intersection. The Toronto Archery Range is south east of the Eglinton Parking Lot and is approx. a 10 - 15 minute walk. We strongly recommend you check Google maps so you are familiar with where you are going.
March 10th 2016
Is the Archery Fad over?
According to our sources it may be. Sales of archery equipment have been slumping during Winter 2016 compared to the fan frenzy which lasted from 2012 to 2015. Is it possible people are losing interest in our very addictive sport? It may be so.
The fourth and final Hunger Games film came out in November 2015, the Hobbit film series ended in December 2014, Pixar never made a Brave sequel, but there are plenty of other things in popular culture which continue to fuel archery as a sport: Game of Thrones, Arrow, Vikings, etc. So maybe the fad has just decreased somewhat. Time will tell.
In the meantime maybe someone will make a proper Robin Hood film sometime. We haven't had a good one since 1991, and that is 25 years ago already.
February 22nd 2016
Spring is fast approaching and beyond it lies summer. Already we are getting requests from parents who are looking for archery summer camps / day camps in Toronto / GTA. Unfortunately our list of summer camps / day camps that offers archery is likely incomplete, thus we are asking the public that if they know of a place in Toronto or the Greater Toronto Area that offers archery summer camps or day camps to please email us the location of the camps in question and we shall check them out and add them to our list. (Also please send us complaints if you hear of any camps that are behaving unsafely or irresponsibly. Positive reviews are also welcome.)
To be extra helpful please include the camp's name, address, phone number and website. Thanks!
February 5th 2016
So far this winter Toronto has been breaking warm weather records. On February 3rd Toronto saw a record high of 15.5 degrees Celsius, making it great weather for shooting some targets at the Toronto Archery Range. That 15.5° beat a previous record of 14.9° from February 1984, making it the warmest day in February ever recorded in Toronto history.
Compared to last year when Toronto was getting -20° to -15° weather and it is a remarkable shift.
Temperatures during January were also consistently mild and warm with bouts of colder weather, but no record breaking heat. For Toronto archers this meant they could still enjoy a trip to the range as long as they were willing to brave temperatures between -5° and 5° C. For those brave souls who do we recommend reading our Guide To Winter Archery.
---
FEATURED NEWS

Archery Tag, Battle Sports: To The Victor goes the Spoils

See older news by visiting our Archery News Archive.